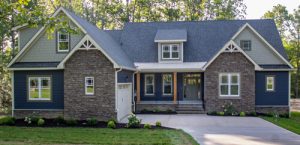 The 67th Annual Parade of Homes in Richmond is right around the corner, and NK Homes is excited to once again take part in the celebration.
This year NK Homes will showcase two exceptional homes: a furnished model in Rochambeau and an unfurnished model in Timberlake Commons. We will join other local builders in presenting the pinnacle in home design and craftsmanship during the first four weeks of October 2018.
We invite you to stop by, meet us in person, and tour all of the amazing homes featured!
What is the Parade of Homes?
Hosted by the Home Building Association of Richmond (HBAR), the Annual Parade of Homes is Greater Richmond's premier showcase of new homes.
Locations include:
Chesterfield County
Goochland County
Hanover County
Henrico County
King William County
New Kent County
Powhatan County
City of Richmond
The 2017 Parade of Homes event featured 91 new homes of all sizes, floor plans, and innovative designs.
Why Attend the Parade of Homes?
The event is an excellent opportunity for home buyers and builders to see the latest trends and get the scoop on new designs, building techniques, floor plans, and prices.
Think of it as a buffet of architecture—you'll see all types of home styles at prices from under $200,000 to over $1 million. You're welcome to tour any participating home and network with HBAR members and other home enthusiasts.
Best of all, it's free! Food trucks are on site at each location and raffles available for you to enter your chance to win amazing prizes.
What is the HBAR?
Founded in 1946, the HBAR is a non-profit trade association and affiliate of the Home Builders Association of Virginia and the National Association of Home Builders.
The organization supports safe and affordable housing throughout the Greater Richmond area and strives to expand its expertise and educate consumers about the latest innovations and services in home construction.
From builders and developers to Realtors® and contractors and other real estate professionals, HBAR members share a passion for creating a better community through events like the Parade of Homes.
Parade of Homes Award Winner
In the 2014, 2015, and 2016 Parade of Homes the NK Homes Team was honored to have several of our homes chosen as finalists.
Our award-winning home designs include:
2016
Gold Award & Best Curb Appeal – $600,000 to $625,000
2015
Silver & Best Kitchen at Madison Estates (Unfurnished $601,000 – $650,000) and Pebble Lake (Furnished under $250,000)
Gold, Best Kitchen & Best Curb Appeal at the Cottages of Deerlake (Unfurnished under $380,000)
2014
Silver Award & Best Kitchen – $550,000 to $600,000